Benchmarking Study
With benchmarking becoming more prevalent in the agriculture industry, this study was designed to learn more about producer benchmarking practices.
FCC asked producers whether they use data for benchmarking.  Insights were gathered on what type of data is being used, whether it is internal or external to their operation, and how producers use it to make decisions for their operation.
Producers who do not benchmark internally or externally were asked what barriers are preventing  them from applying this common business practice.
Finally, producers were asked what support they would find helpful for benchmarking in the future.
Key Findings
1. Use of internal benchmarking is more common than external benchmarking
Eight in ten (82%) producers indicated that they benchmark data for their operation.  The method which respondents use most (78%) is
internal benchmarking
. Internal benchmarking is when producers compare their financial or production data against their previous year results.  
Less than half (38%) of the producers surveyed said they leverage external data sources. External benchmarking is when producers use external data sources to compare their operation against others. 
Interestingly, one in five (18%) indicated that they do not benchmark data to help with decision making on their operation.
Internal benchmarking is consistent across all producer demographics, including sectors, provinces and annual sales ranges. Producers across all sectors benchmark primarily with internal data than with external data sources.

Respondents within the hog industry (62%) are more likely than respondents from other sectors to look at external data for operation comparisons. This could relate to the fact that they are more likely to find external data trustworthy (94%) than other sectors which average 74% for trustworthiness.

Hog producers typically use external data to try to "surpass industry averages". They look at things like production levels of other operations in order to make operational decisions. These decisions often involve consideration of whether or not to buy new equipment or if they should be implementing new technologies. External data provides options for choosing different varieties or trying new agronomic practices.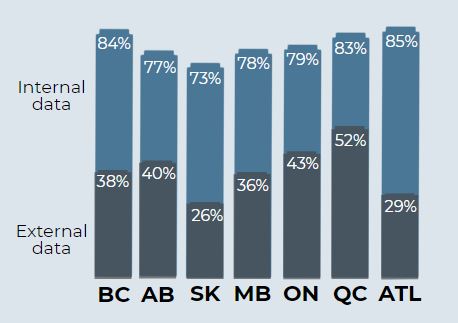 Nationally, producers are twice as likely to benchmark with internal data (78%) than they are to benchmark with external data (38%). It is notable that across all provinces, producers from Saskatchewan are least likely to benchmark internally or externally.

This could be due to the fact that Saskatchewan producers rate the trustworthiness of external data the lowest (62%) in comparison to the other provinces, which average 78% for finding external data sources trustworthy.
When looking across annual sale groups, a trend emerges. As annual sales increase, so does the overall likelihood to benchmark. The study shows, of the 18% who do not benchmark, two thirds (66%) of those producers belong in sales categories of less than $500,000.
2. Cost/ expense data is benchmarked the most in agriculture
The most popular data (81%) looked at for benchmarking purposes is cost/ expense data.

Respondents indicated that the reason they use this data is because it gives them the advantage of comparing costs against what other producers are paying.  With this insight, producers can be aware of possible over-payments  and it provides them with the ability to negotiate prices.  

Other data sources that are used for benchmarking include: field management, profitability, financial performance and livestock production.  Only a limited few producers (30%) benchmark with environmental data.   
Although all sectors have cost/ expense data as the most common data type they consider when benchmarking, the other data types they use are varied in accordance with their sector.  
The majority of the dairy sector will also look at financial performance (60%) and livestock production (75%).  More than half of the beef sector consider livestock production (59%).  Crop producers also tend to look at field management (69%).  The poultry sector largely reviews livestock production data (87%) as well as profitability data (66%).   Hog producers benchmark using livestock production (76%) and profitability (62%) as well.

Regardless of sector, producers highlighted that comparing data enables them to understand how their operation is performing in contrast to prior years or against other operations. If they are below the average, they  look for more information on how to improve their operations. 



3. Producers benchmark against similar operations
When sourcing external information, producers look at information from operations similar to their own in terms of sector, size and location. This information is commonly sourced through general conversations with their peers or by visiting nearby farms.  Producers also talk with their accountant and gather insights on how they compare against others in their province.    
External data also comes from agronomists, feed salesmen, nutritionists, reading local reports, publications or by conducting general online searches.
Overall, producers feel the information they source is trustworthy (75%).  The other quarter (24%) are unsure of its trustworthiness due to biases, producer exaggerations, or being unclear on how data was collected.

4. Lack of understanding prevents producers from benchmarking
Internal Data
One in five producers (22%) do not benchmark with internal data. These producers were asked what barriers are preventing them from using internal data and the most common response was that they are unsure where to begin (38%).  
One quarter of respondents (25%) indicated that they do not see the benefit in this practice. They also feel it is too time consuming (21%) and the process is complicated (14%). 
Another reason producers do not benchmark internally is that they feel they are unable to due to yearly operational changes (20%).
External Data
Producers who do not benchmark with external data (62%) were asked what barriers they are facing. The most common response was that they are unsure where to find comparable data sources (50%). 
One in five (20%) indicated their operation is unique to others. Producers also feel it is too time consuming (19%), they do not see the benefit (19%) and the process is complicated (16%).

5. Producers want a centralized place to host data
Producers identified that having a website which provides all the necessary information they need to benchmark would be beneficial (24%).  Within this site they would like the ability to access information/ data which is similar in scope to their own operation (23%).

It would be ideal if this information could be hosted by a third party allowing unbiased results. 

Besides having a common site for data collection, producers indicate that they would like to receive advice and assistance to help them start benchmarking.  Those who are currently benchmarking state that having additional support on best practices would ensure they are leveraging the information in the most effective way for their operation.  They suggest this could be done in the form of a one on one setting or through a workshop.

Providing a benchmarking software tool or template would also help keep their benchmarking consistent and up to date.